Eurovelo 8 Region of Valencia
What is the Eurovelo network?
EuroVelo is a network of 15 long-distance cycling routes that connect and unite the entire continent of Europe. The routes can be used by both cyclists and local residents to make their daily journeys. EuroVelo expects the network to be substantially complete by 2020.
The aims of EuroVelo are:
Promote sustainable journeys that are economically, environmentally and socially responsible.
Improve the quality of EuroVelo routes in all the participating European countries.
Promote the EuroVelo routes brand in accordance with published regulations.
Provide information all across Europe about EuroVelo and national cycle routes.
Support the development of national coordination centres for the EuroVelo route and national routes.
Encourage the exchange of experiences and good practice between European states and regions, stimulating high quality cycling strategies and infrastructure.
EuroVelo's implementation and quality assurance are coordinated by the European Cycling Federation (ECF) in collaboration with the National EuroVelo Coordination Centres and Coordinators (NECC/Cs). In the case of Spain, the NECC/C is integrated into ConBici, Coordinator in Defence of the Bicycle, which brings together 61 cyclists' associations and groups from all over Spain.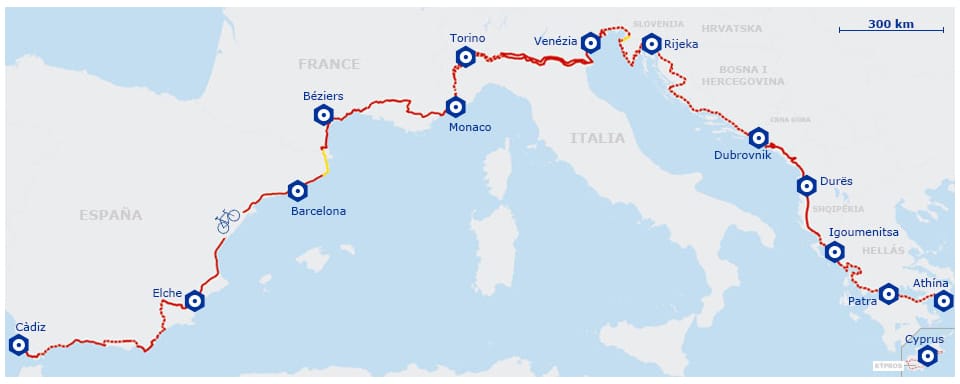 EuroVelo routes
North – South Routes:
1 – Atlantic Coast Route: North Cape (Norway) – Cape St. Vincent (8,186 km)
3 – Pilgrims Route: Trondheim – Santiago de Compostela (5,122 km)
5 – Via Romea (Francigena): London – Rome and Brindisi (3,900 km)
7 – Sun Route: North Cape (Norway) – Malta (7,409 km)
9 – Baltic – Adriatic: Gdansk – Pula (1,930 km)
11 – East Europe Route: North Cape (Norway) – Athens (5,984 km)
13 – Iron Curtain Trail: Barents Sea – Black Sea (10,400 km)
15 – Rhine Cycle Route: Andermatt – Hoek van Holland (1,320 km)
17 – Rhone Cycle Route: Andermatt – Mediterranean (1,115 km)
West – East Routes:
2 – Capitals Route: Galway – Moscow (5,500 km)
4 – Central Europe Route: Roscoff – Kiev (4,000 km)
6 – Atlantic – Black Sea: Nantes – Constanza (4,448 km)
8 – Mediterranean Route: Cádiz – Athens and Cyprus (5,888 km)
Tours:
10 – Baltic Sea Cycle Route (7,980 km)
12 – North Sea Cycle Route (5,932 km)
EUROVELO 8: THE MEDITERRANEAN ROUTE (IN CONSTRUCTION)
EuroVelo in Spain: Around 3600 km to enjoy your bicycle
Regions through which EuroVelo 8 passes: Catalonia, Region of Valencia, Murcia and Andalusia.
Overview: A route with a Mediterranean calling that follows the coast from the Cabo de Rosas to the coast of Cadiz. Sun, sand and good weather are guaranteed on almost 300 days a year. We'll come upon large and vibrant cities such as Valencia, Malaga and Cadiz, where we can enjoy their monumental heritage and great cultural offerings, which are in the vanguard of national and European trends. We'll also have time to take a dip in the sea at some of the best beaches in the Iberian Peninsula, while enjoying some of the benefits of Mediterranean cuisine, such as paella and tapas. Murcia and Andalusia will be our last hosts on this meandering and pleasant trip, which will bid farewell to the rhythm of fish&wind.
More information about the stretch of EuroVelo 8 that runs through the Region of Valencia here.